Last month I wrote about the wonderful time we had in Los Cabos during our PEI Executive Summit.  I want to talk more about one particular event that was so amazing that I just can't stop thinking about it.
Travel is a huge part of the work Colin and I do and we love it. However it can be exhausting to always be on the road.  The last six months in particular, have been very busy with programs, site inspections, and hosting our own executive summits.  Rarely
do we have the opportunity to be the recipient of any of the special services that we create for our clients.  This was an exception.
The Fiesta Americana Grand in Los Cabos has designed an evening called "Barefoot Elegance."  From start to finish, all five senses are engaged – sight, sound, taste, touch and smell.
It starts as we approach the beach.  We are greeted by butlers who "check" our shoes, remove them on trays and escort us to a living room on the beach with overstuffed rattan couches where we are served grape martinis and hors d'oeuvres.  After enjoying this brief respite, we are then taken further down the beach where there are 12 massage therapists standing in various yoga positions awaiting their guests.  The sun is setting, casting a beautiful glow over the whole scene.  At each guest "station" there was an overstuffed rattan chaise and a small wine barrel.  What happened next was quite unexpected!
We each were helped into our own individual barrel where we proceeded to stomp on purple wine grapes.  Aided by the therapists, we smashed and laughed, not realizing that the therapy had already started.  After a few minutes, we settled into the lounge chairs and enjoyed foot and lower leg massages with rare French grape seed oil and the grapes we had just crushed.  Closing our eyes, we could hear the ocean and waves crashing on the sand in front of us, feel the wind, smell the aroma of the grapes and citrus incense as well as enjoy the sensations of the massage.
The timing of day for this eve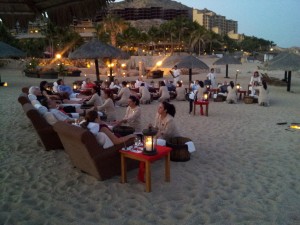 nt was perfect.  When we opened our eyes, the tiki torches had been lit and the sun was disappearing over the horizon.  At this point, the wine sommelier took us through an exquisite wine and canapé pairing just as the stars began to appear.  After a short presentation on the constellations over Los Cabos, we moved to a private dining table where we watched the chef prepare and serve a magnificent five-course meal.  Another unexpected delight was the staff member who performed a romantic Italian opera aria over dessert.  It was just magnificent.
After dinner, we enjoyed some social time at the fire pit, tasting Mexican liqueurs and listening to live music.  By this time, the sun had fully set and the scene on the beach was warm and totally relaxing. Good food, good wine and good friends.
It's not often that we step out of the role of host but on this occasion, I really felt like we had been on   the receiving end of this incentive program and of the world-class treatment we endeavor to deliver to our clients.  It was an experience I will remember for a long, long time!