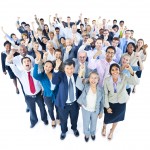 Your top performers always perform. They earn the rewards and recognition you offer because it is their nature to consistently achieve results.
But what about the rest of your team?  How do you "motivate the middle" or biggest proportion of your target market?  This is one of the biggest challenges facing executives in a time when employee and customer loyalty as well as engagement cannot be assumed.
We are pleased to announce that Performance Enhancement Incentives has broadened the scope of its services to become a full Engagement Agency.  We can now provide you with the tools you need to help integrate all aspects of employee motivation – performance assessment, communication and learning, collaboration and innovation, rewards and recognition and the ability to measure the return on your investment.  The goal of the Engagement Agency is to help executives improve motivation and engagement in all your team members, not just the top performers, and achieve improved financial results through comprehensive and effective programs designed for your specific needs and business goals.
For example, we've worked with several national homebuilders who use incentive travel programs to motivate their sales teams.  Sales professionals eagerly await the announcement of the program and their individual goals.  Then throughout the year they work to earn the reward not only because they enjoy the travel experience but because they delight in the recognition that comes with being a top performer.  In every circumstance, the executives struggle with explaining why incentive opportunities are offered to salespeople and not to construction, customer service and administrative personnel.  Everyone agrees that it requires the effort of the entire team to deliver a quality home buying experience which contributes to increased sales but it is impossible to expand these particular programs to include every department.
The Engagement Agency will provide solutions to this dilemma.  Any individual in any department within a company can earn an incentive reward if they achieve their stated goals.   And this will all be managed in one place making it easy, cost effective and measurable for business leaders.
We will be soon be sharing more information about the Engagement Agency – the program opportunities, client management portal and the results you can expect to achieve in implementing an effective reward and recognition system for all the members of your business team. In the meantime, if you would like more information, don't hesitate to contact me at 978-287-9500.