The extreme summer heat inspired my son and me to do something extreme last month.  We went skiing!  That's right, skiing in the summer.  And there may be no more beautiful location than the magnificent Andes Mountains of Chile.
We flew into Santiago, a wonderful city reminiscent of the most cosmopolitan cities of Europe thirty years ago.  The hotels, restaurants and scenery are all world class.  I have enjoyed wines from all around the world and I wasn't disappointed at the outstanding quality of the reds and whites that come from the vineyards surrounding the city.
We traveled northeast out of Santiago for about 2 ½ hours to a mile or so from the Argentinean border.  The Portillo Resort sits at 9,200 feet on the Lake of the Incas.  For eight days, we skied the Roca Jack Run (a favorite because it's steep,) as well as cruiser runs like Plateau or Juncalillo that ends down in the valley below the resort.  The Andes are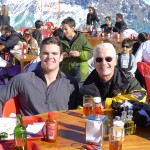 a "young" range with jagged peaks that haven't been blunted by erosion as much as the Alps or Rockies and they rise another 5-6,000 feet above where we were.  The majesty and power of those mountains just takes your breath away, even if you aren't tuckin' it to the bottom of the run.
It goes without saying that my son is one of my favorite travel companions.  Sharing these eight days with him in one of the most beautiful places in the world doing something we both love was a thrill. Next: the Dolomites in January!
Jared and Colin in the Andes