Last week we hosted a number of industry executives at the Performance Enhancement Incentives Executive Educational Summit in Cabo San Lucas.  We have several goals for these summits which include 1) providing relevant information on employee incentives and travel reward programs; 2) introducing business leaders to a particular destination; and 3) demonstrating first-hand how a travel reward program can affect business results.  An added bonus is what happens when executives come together in a non-competitive environment – they share their own experiences and learn from each other.
During the 3-day summit, attendees visited several venues and restaurants and experienced some of the attractions of this beautiful area.  Hotel executives conducted site tours to demonstrate their ability to manage groups of all sizes, arrange meetings, and provide exceptional food and service for their guests.  The food and service demonstrated at several restaurants proved that Cabo and the surrounding area can deliver an exceptional reward experience to visitors.
Bruce Bolger, managing director of The Enterprise Engagement Alliance, was the keynote speaker.  Bolger conducts research and creates measurement tools related to engagement, including the Enterprise Engagement Indicator and Meter for tracking an organization's ability to improve performance through engagement.  At the summit, Bolger talked about the three-pronged approach to engagement – customer, employee and vendor.  When every aspect of the business is engaged, it maximizes a company's performance and its value which in turn, impacts the stock value.  Bolger also discussed the effective use of incentives and recognition in achieving engagement success.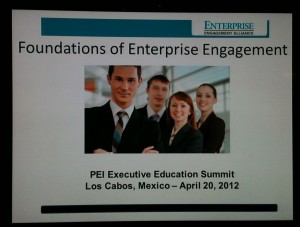 Summit attendees engaged with each other on topics that are important to business leaders.  They shared their challenges, successes and failures on the topic of employee engagement.  This exchange of high level intelligence is extremely valuable for these executives and they left the Summit filled with new knowledge and ideas to implement in their own companies.